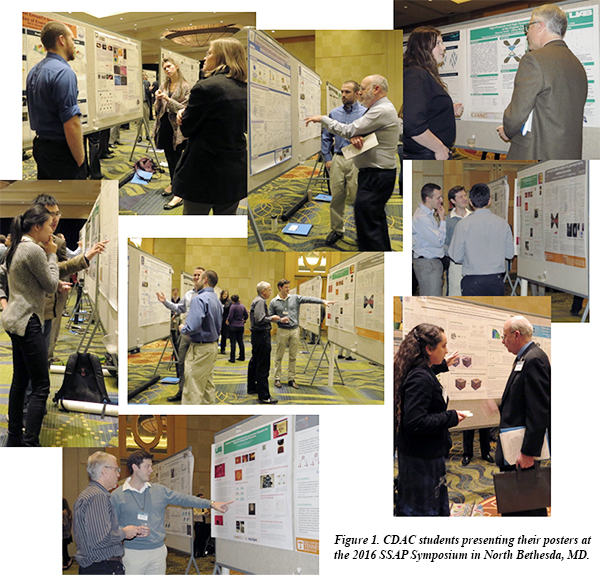 The annual Stewardship Science Academic Programs (SSAP) Symposium was held in North Bethesda, MD on February 17-18, 2016.  CDAC Director Russell Hemley gave an overview of the Center and its accomplishments in the scientific program, education and outreach, and technical developments during the past year.  The pdf file of the presentation may be accessed here. 
At the poster session, 17 CDAC graduate students presented their work.  Attending the symposium were Will Bassett and Will Shaw (Illinois), Kierstin Daviau (Yale), Sakun Duwal (Washington State), Feng Lin (Utah), Josh Townsend (Northwestern), Jing Song (Washington University-St. Louis), Spencer Smith and Samuel Moore (Alabama-Birmingham), May-Ling Li (Illinois), Andrew Shamp (Buffalo), Hannah Shelton and Yi Hu (Hawai'i), Eloisa Zepeda-Alarcon (UC-Berkeley), Chris McGuier (UCLA), Jocelyn Rodgers (Carnegie/Georgetown), and Raul Palomares (Tennessee). 
Eloisa Zepeda-Alarcon received a Best Poster Award for her presentation.  This is the third year in a row that she has received a Best Poster Award at this meeting.
Student posters presented at the poster session were:
Will Bassett - 32-channel emission spectrometer for studies of energetic materials
Kierstin Daviau - Inside a diamond planet: Dissociation of SiC at high P-T
Sakun Duwal - Isostructural transition and metallization in WS2
Yi Hu - Five-coordinated silicon in diopside at high pressure by single-crystal x-ray diffraction and first principles calculations
May-Ling Li - Thermal conductivity of anisotropic materials at high pressure
Feng Lin - Elastic visco-plastic self-consistent analysis of periclase deformation
Chris McGuire - High pressure and temperature equation of state for Fe5Si3
Samuel Moore - Fabrication of designer diamond anvils using maskless lithography with integrated wireless data transmission
Raul Palomares - Controlling the stability of octahedral GeO2 glass using in situ ion irradiation at high pressure

Jocelyn Rodgers – Proteins under extreme pressures – A computational study

Andrew Shamp - Theoretical studies of the primary Hugoniot and solid state properties of boron carbide in extreme conditions
Will Shaw- Shock wave energy dissipation of nanoporous materials
Hannah Shelton - Evolution of interatomic and intermolecular interactions of melamine at high pressure
Spencer Smith– High-pressure and high-temperature structural behavior of the organic crystal paracetamol
Jing Song- Magnetic ordering at anomalously high temperatures in Nd and Dy under extreme pressure
Josh Townsend - First-principles investigation of hydrous post-perovskite
Eloisa Zepeda-Alarcon -

 

Finite element modeling of crystallographic preferred orientation in two phase aggregates relevant to anisotropy in the Earth's lower mantle