The Frontier Synchrotron Infrared Spectroscopy (FIS) Beamline under Extreme Conditions has been approved as one of the eight NxtGen beamlines to be developed and constructed at NSLS-II. FIS is the successor of the IR-DAC facility (U2A) at NSLS, the highly productive, Carnegie-managed user facility supported by COMPRES and CDAC, and the only dedicated high-pressure synchrotron IR facility in the world.
As announced in May 2012 at the NSLS/CFN Joint Users' Meeting by Dr. Steve Dierker, Associate Laboratory Director for Photon Sciences, NxtGen is a set of eight beamlines at NSLS-II that will be based on components from beamlines at NSLS. Carnegie's Zhenxian Liu and Russell Hemley and the FIS team have been working closely with BNL Photon Sciences staff to move forward with the development of FIS. A Beamline Execution Plan detailing the FIS project is in the advanced draft stage.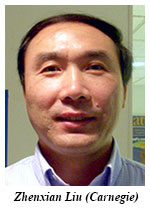 FIS will adapt one of the novel design features of NSLS II – the large-gap IR dipole. Construction of the beamline hutch on Bending Magnet Port 22 will be completed and all existing equipment at U2A moved in by early 2015. At that time, the integrated optical facility for far-IR to UV absorption and reflectance spectroscopy with conventional sources, together with laser Raman and photoluminescence spectroscopy will open to users for experiments – i.e., during the NSLS/NSLS-II "dark period." Full synchrotron IR capability will be available no later than 2017, with early completion anticipated pending efforts to obtain supplemental funding.