Scholars Wrap Up Successful Summer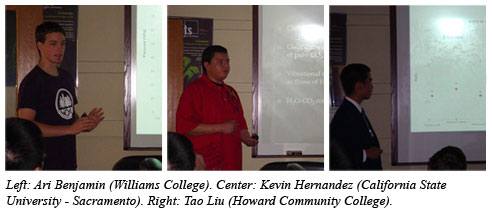 On Wednesday August 12th, the three Carnegie Summer Scholars working on CDAC-related research presented the results of their summer's work in the Boyd Conference Room on the Broad Branch Road Campus. Ari Benjamin (Williams College) studied the equation of state of the fluorinated copolymer Kel-F 800 to near megabar pressures with Carnegie Research Scientist Muhetaer Ahart. Kevin Hernandez (California State University-Sacramento) worked with CDAC Coordinator and Carnegie Research Scientist Stephen Gramsch and Carnegie Research Scientist Maddury Somayzulu using Raman spectroscopy to study the carbon dioxide-water system at high pressure. Tao Liu (Howard Community College) performed optical emission spectroscopy studies of MP-CVD diamond growth with CDAC Research Scientist Chih-Shiue Yan.
The summer scholars have now returned to their home institutions, but several will be presenting their results at national meetings in the coming year. The Carnegie Summer Scholars Program is jointly funded by the National Science Foundation/Research Experiences for Undergraduates program and the Air Force Office of Scientific Research (ASSURE program).